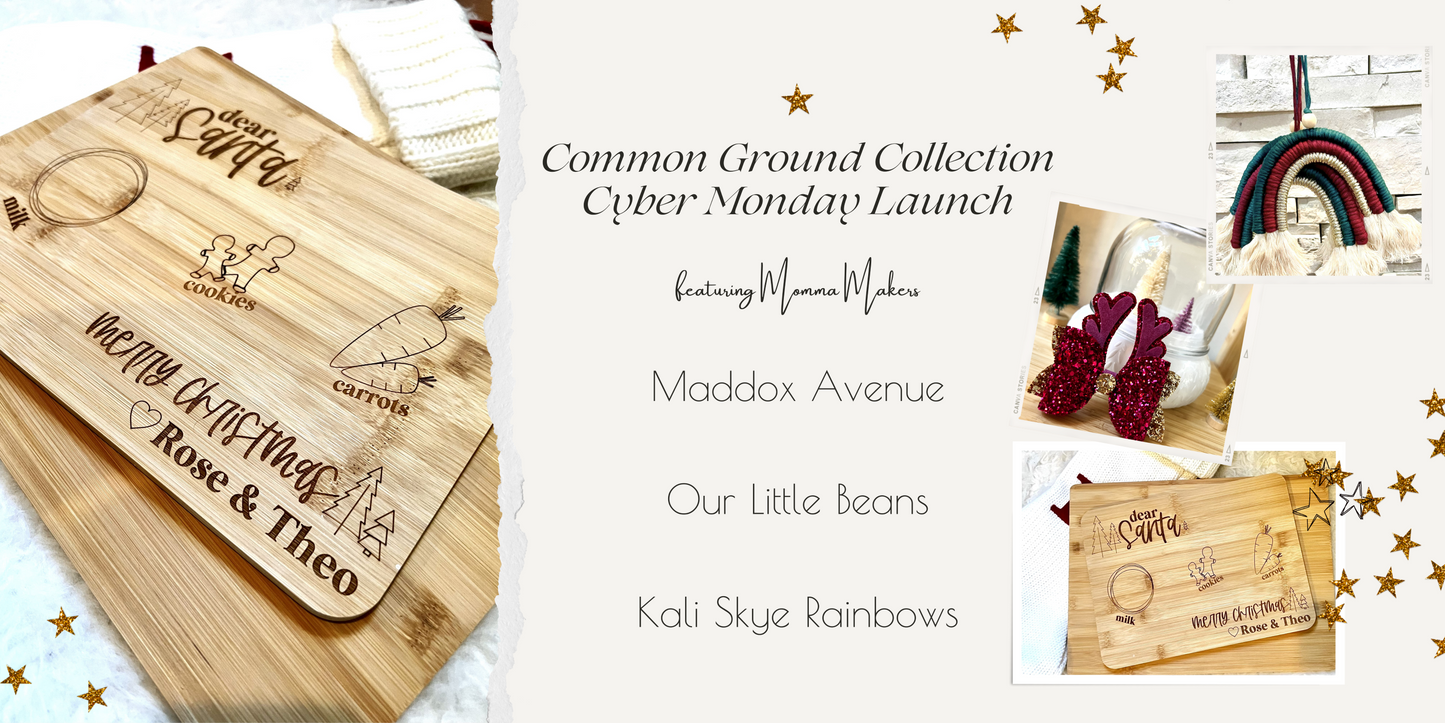 Hello friends! Our Momma Makers have been busy crafting limited and exclusive  goodies that are dropping today!!
Common Ground Collection Cyber Monday Launch is LIVE!!
This launch features creations from Maddox Avenue, Our Little Beans, and Kali Skye Rainbows. 
Momma Maker Paige, of Maddox Avenue has crafted a beautiful bamboo Santa Cookie Tray to help your family celebrate the time-honored tradition of leaving a snack for Santa and his reindeer.

This Maddox Avenue exclusive is made with care, attention to detail, and so much holiday spirit. There are only ten of each size available in this exclusive Cyber Monday Launch! So hurry while supplies last!

This soon-to-be family heirloom is customizable with the names of your littlest loved ones or can be engraved with the family name! Please keep in mind the amount and length of the names you wish to include can play a deciding role in which size Santa Cookie Tray you select. 

You have the option of two sizes, small and large. The small Santa Cookie Tray measures 9 x 12. The large Santa Cookie Tray measures 11 x 15. These Santa Cookie Trays are also super easy to care for; just hand-wash and seal with a food-safe wax or oil.
Our Little Beans Reindeer bows sell out every year before we can finish saying, Rudolph! But this year Momma Maker Marissa from OLB made an exclusive PINK Reindeer Bow just for Common Ground Collection and just in time for Cyber Monday Launch!!
This pink and gold sparkle Reindeer Bow is shining bright! These festive beauties will not last long. Only ten are available!

All Our Little Beans bows are handmade with love and are the perfect accessory for any occasion.
The Kali Skye Rainbow Ornaments have arrived! These exclusive and gorgeous macramé ornaments are made with red, green, and gold luxe cotton cord.

They are 4.5 x 6 inches and come in two different color options, from top to bottom - red, green, gold, or green, red, gold. Either color combination will bring joy to your tree or mantle! But hurry, only five of each color combination are available in this exclusive Cyber Monday Launch!

All Kali Skye products are handmade with close attention to detail. 
For more from these amazing ladies check out their socials below:
Momma Maker Paige, Instagram @maddox_avenue
Momma Maker Marissa, Instagram @our_little_beans
Momma Maker Lani, Instagram @kaliskyerainbows
As always please tag us in your pictures, we truly cherish seeing each and every one of them! Instagram @ _commongroundcollection_

Don't forget to subscribe below to our email list, so you're notified every time we add something new to our blog.



And if you're in the North Carolina area and would love to see more creative projects from our Momma Makers check out local shops, Against The Grain Shoppe in Southern Pines, and Bump And Baby in Pinehurst. 


We hope you love these exclusive and limited edition products and can't wait to connect with you again! From all of us to all of you, Happy Holidays!!